Watch Video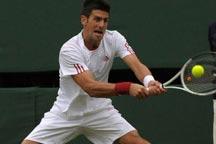 Play Video
The ATP Paris Masters continued in the French capital on Wednesday with Novak Djokovic up against Sam Querrey - and regardless of the outcome, Djokovic will return to the world number one ranking next Monday, displacing Roger Federer.
Djokovic made his grand enterance to centre court wearing a Halloween outfit, and the force was clearly with him in the first set as he snatched it 6-love.
But the scripts then got confused, the American took the second set before unleashed 18 aces to win the match love-6, 7-6, 6-4. Djokovic has not been eliminated so early in a tournament since 2010.
Novak Djokovic, World No. 1, said,"I knew that the main problem today will be the continuity of my energy, and unfortunately it wasn't to be. After the second set and you know during the second set I already felt that I, physically I'm down, I struggled every game. So yeah it's unfortunate but on the brighter side I have a little bit more time to rest because I had the really difficult period in the last couple of weeks, some things happened and a lot of things on my mind and had to do. So right now I just need a couple of days before London."
Editor:Qin Xue |Source: CCTV.com