Watch Video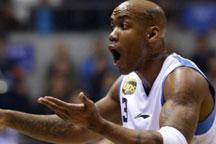 Play Video
The new season of the Chinese Basketball Association tipped off on Saturday night in Beijing with a marquee match-up of two former NBA All-Stars. Stephon Marbury led his Beijing Ducks against Gilbert Arenas and the Shanghai Sharks. Peter Koveos has the latest chapter in this tale of the two cities.
The long-awaited, CBA season finally got underway on a super Saturday. Chinese fans, after a break of more than half a year, would get to witness a new begining in the domestic league.
Many looked desperate to get involved in the excitement before the tip-off. Basketball fans said, "I hope Beijing can win the match, but I'm also looking forward to the head-to-head battle between Marbury and Arenas." "I hope to see the match-up for sure. Both of them are big stars."
The stadium was soon packed to the rafters with fans chanting for the Beijing Ducks, who came into the match as the defending CBA champions.
The opening night attracting Chinese sports stars like badminton player Lin Dan. Lin Dan, 2012 Olympic Champion, said, "I came here to enjoy the match and to see the difference between badminton and basketball. I hope the badminton league can have more foreign players in the future."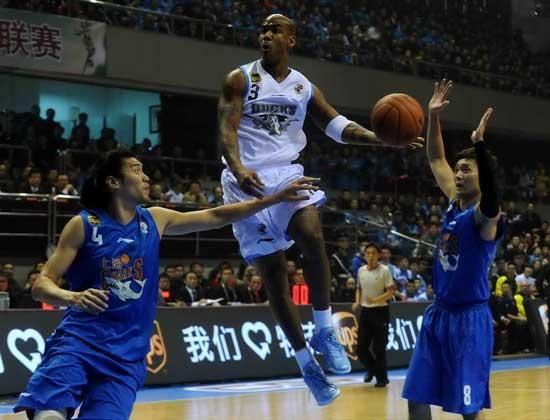 Marbury led his Beijing Ducks against Gilbert Arenas and the Shanghai Sharks.
The opening game finally unfolded with two high-profile teams searching for a fresh start to the new season. The home fans were given a reason to cheer when the heart of the capital city led the Ducks to a remarkable lead early on, while the Sharks were soon drowned under the attack of the host team and cheering crowd.
The match-up of Marbury and Arenas then came to an abrupt end when the latter left the court due to injury after scoring only three points in his first match in China. Beijing roared away and retained a double-digit lead most of the game, while Shanghai struggled against a team of confident Ducks.
Marbury and his teammates extended the advantage to more than 20 early in the fourth quarter and eased to a 94-78 victory over the Sharks.
The Beijng guard finished with 16 points, 8 assists on the night, while fellow American center Randolph Morris had 23 points, 6 boards in the curtain raiser. Despite an opening victory at home, the American star knew the road is long for their title defense.
For Marbury and his Beijing Ducks it's a great start in their attempt to repeat as champions.
Editor:Lu Jiaying |Source: CCTV.com