Watch Video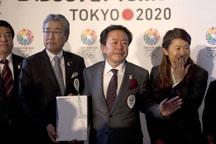 Play Video
By CCTV correspondent Peter Koveos
We are about a year away from the next winter Olympics, which will be held in the Russian city of Sochi. The next summer games take place in 2016 in Rio, and the competition to host the following summer Olympiad is heating up. Earlier this week, the three bidding cities, Tokyo, Madrid and Istanbul made their pitch to the IOC to be chosen as the host. And Thursday, the officials from Tokyo began promoting their campaign with a stop in the recent site of the Olympics.
Leaders of Tokyo's bid for the 2020 Olympics launched their international promotion campaign in London, promising to match or surpass the success of the games held in the British capital six months ago.
Getting a jump on rivals Madrid and Istanbul, Tokyo officials outlined their candidacy in the British capital just three days after submitting their bid documents to the IOC.
Masato Mizuno, CEO of Tokyo 2020 Bid Committee, said,"We have a long-term dream to host the Olympic Games, now in this situation we like to stress that Tokyo 2020 is a safe pair of hands, and much more, and we will bring together the dynamic innovation and the global inspiration in the heart of one of the most forward-thinking and exciting, safe cities."
Tokyo is trying to win the Games for the second time, and officials even went as far as to compare their city to the British capital, which has hosted the Olympics on three occasions.
Naoki Inose, governor of Tokyo and Tokyo 2020 chairman, said,"Tokyo and London have similarities. That is, we can come up with ways of doing things in finely-textured and sophisticated ways. For example, the running of the transportation system, the quality of the service as well as the quality of the operation. I think that London did it superbly, and that is the case of a Games hosted by a developed nation. London has proved the quality in running the Games in a mature and developed city and country. So in 2020, Tokyo will be able to illustrate that as well."
Homare Sawa, four-time football Olympian, Tokyo bid ambassador, said,"I had a great emotional experience at the London Games, and I hope it is repeated in Tokyo. I want to emphasise the power of sports, the pleasure of sport, the attractiveness of sports. I want to help children experience this in the future, through the act of sports."
Tokyo, is competing with Madrid and Istanbul for the right to host the 2020 Games, the IOC will make a final decision on September 7th in Buenos Aires.
Related stories
Editor:Qin Xue |Source: CCTV.com