Watch Video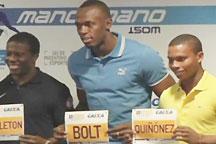 Play Video
The fastest man ever has arrived in Rio de Janeiro for a four-day tour of the city where Usain Bolt will also be challenged in a 150-metre race on a track specially built at the iconic Copacabana beach.
The competition, to be held on Easter Sunday, will have Bolt dueling with international sprinters and it will also have a women's race as well as a Paralympian race. Bolt later crossed the city to visit a social project where 140 kids and youngsters practice sports to become professional athletes. The project, called Olympic Future, aims to take youth off the streets and give them opportunities in life. At a press conference in Rio, Bolt addressed the challenge that rising fellow Jamaican Yohan Blake presents to him...and also talked about his plans for the 2016 Olympic Games in Rio.
Usain Bolt, 100m, 200m WR Holder, said, "For me, I am definitely looking forward to this run. It is my first one so I am definitely looking forward to it. It should be a good run. Yohan Blake is a great athlete, we train every day so I see him. He is training pretty well, he is coming on very well. For me I can't determine who is going to be my successor but for one thing I definitely think he has the possibility to be a great athlete, without a doubt, as he has shown over the years and I am always looking forward to competing against him. He is a very fierce competitor and he works hard so definitely looking forward to the competition."
Editor:Yang Jie |Source: CCTV.com