Watch Video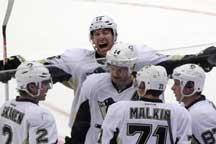 Play Video
Checking out the NHL, the Metropolitan Division leaders were on the road. the Pittsburgh Penguins traveled to face the New York Islanders knowing a win would put the Penguins atop the Eastern Conference ahead of the Boston Bruins, who had Tuesday night off.
But it's the struggling home side who take the lead at the bottom of Pittsurgh's division but one up hete, Kyle Okposo back-hands the puck through the crease Okposo hadn't scored in the previous eight games, but he gets on the board there, and the Islanders go in front.
More from K.O. later in the first period, John Tavares leaves the puck for him, and his slapshot bounces in after hitting the goaltender's left arm, Marc-Andre Fleury in shock Islanders up 2-0.
The netminder later faces a penalty shot from Frans Nielsen, and he makes a brilliant kick-save Pittsburgh down by one, and who steps up but Sidney Crosby, firing a one-timer from the right circle, That ties the score at two-all, so we're going to overtime.
And in the extra session, Crosby's at it again, stealing the puck from Thomas Vanek and jamming a back-hander past Anders Nilsson. That's the game winner, crosby's 15th goal of the season, and the Penguins have their third straight road victory.
Now a look at the evening's other games on the ice. The Kings prevailed in a shoot-out against their LA rivals. There were also wins for the Senators, Sharks, and Coyotes
Three other teams picking up victories on the road were the Stars, Hurricanes, and Canucks. And the only squad to finish on top at home were the Avalanche.
Editor:Zhang Pengfei |Source: CCTV.com