Watch Video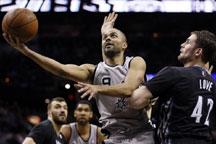 Play Video
San Antonio now have the best record in the Western Conference, an 18 point success over the Minnesota Timberwolves puts them on 29 wins one ahead of Portland and Oklahoma City Ker-why Leonard helping the spurs through with seventeen as the depth in their squad was too much for Wolves.
The Spurs' Tony Parker driving and dishing to Matt Bonner and the big man knocks down a trey in the first quarter. San anonio up by seven 14 points off the bench for Bonner.
Minnesota tying it up in the second, Ricky Rubio to Nikola Petkovic, who puts it in off the glass.
On the way to a game-high 22 points, then Ker-why Leonard finds a cutting TP-Nine who knocks down the long "J" and Parker would finish the evening with 14 points and 10 assists.
San Antonio turning to "Mr. Reliable" after the break and Tim Duncan bounces in two of his 15 points as the Spurs begin to pull away. But the Timberwolves won't go quietly.
Rubio feeding Kevin Love, who tosses in two of his 14 and the visitors cut the deficit to five points.
So Parker passes to Leonard on the next possession and he drills the trifecta from the top of the key. Leonard leading San Antonio with 17, thirteen coming after half time.
Later it's Corey Brewer driving for Minnesota, But he's blocked by Jeff Ayres, and the Spurs go the other way, then it's reward time. Parker to Ayres for the monster dunk and the hosts go on to crush the T-Wolves 104-86.
Editor:Zhang Pengfei |Source: CCTV.com