China's number one player Li Na was taking on the Russian Ecaterina Makarova. Li had won all 4 of their previous meetings. And this one went the same way.
It picks things up at 1-1 in the first set. Some big baseline shots from both players in this rally. But it's Li who comes up with the winner. A nice forehand shot down the line.
One point later and it's a similar story with a similar outcome. Some big hitting from the back of the court. But it's the world number 3 who finds the winner on the backhand side. And she broke in that game and went on to take the set.
And the second set was even easier, Li taking match point up at the net. Winning it 6-2, 6-0 in just under an hour. She'll next take on Flavia Panetta in the final 8.
Li Na of China hits a return during her women's singles fourth round match against
Katerina Makarova of Russia at Australian Open tennis tournament in Melbourne,
Australia, Jan. 19, 2014. Li Na won 2-0. (Xinhua/Li Jundong)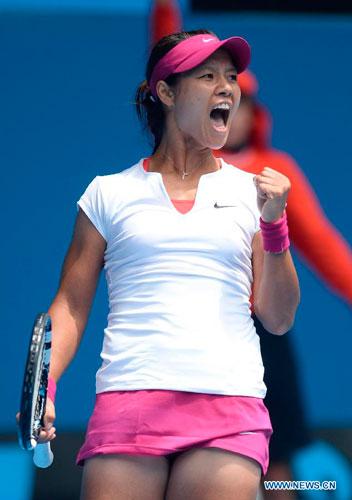 Li Na of China celebrates a score during her women's
singles fourth round match against Katerina Makarova
of Russia at Australian Open tennis tournament in
Melbourne, Australia, Jan. 19, 2014. Li Na won 2-0.
(Xinhua/Li Jundong)
Related stories
Editor:James |Source: CCTV.com