The Shoton Festival is one of the most popular traditional festivals in Tibet. It celebrates eating yogurt, the Tibetan monks who end their season of meditation, the watching of Tibetan dramatic operas, and Tibetan Buddhism. It is held annually in the month of August, or late in the sixth month or early in the seventh month of the Tibetan calendar. The festival is a great occasion for both Tibetans and tourists.
During the festival, there are celebrations in the streets, squares and monasteries in Lhasa. The main part of the celebration activities are centered on the western part of the city of Lhasa in Tibet on the grounds of the palace of the Dalai Lama that is called Norbulingka that they started to build in 1755. The Norbulingka palace, park and garden area is the biggest garden in Tibet, and it was recognized as part of a UNESCO World Heritage Site. The name means "Jeweled Park." The Norbulingka covers an area of around 36 hectares (89 acres), and is great grounds for the dancing, eating and entertainment of the festival.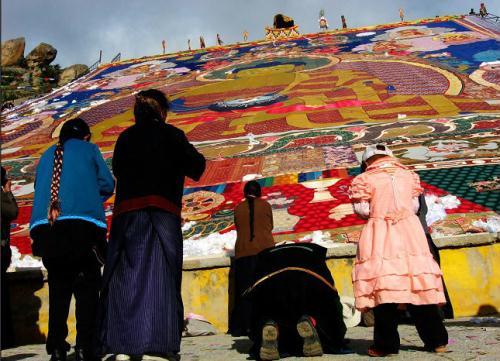 The Shoton Festival is one of the most popular traditional festivals in Tibet
On the first day of the festival, the Thangka is scheduled to be unveiled at the Drepung Monastery. Then the celebrations will begin at Norbulingka. The residents of Lhasa will gather in the park and celebrate by eating yoghurt and watching the operas. Professional and amateur Tibetan opera troupes annually gather in the Norbulingka and perform various Tibetan operas. Along with the Tibetan operas and other religious activities, visitors can also watch yak races, horse races and dancing.
In the Tibetan language, the word Shoton means "sour milk banquet." Buddhists go to mountains to cultivate themselves, and then after the period of cultivation, their family members will go and meet them on the mountains. On their way home, people drink yoghurt, sing and dance. The Shoton Festival has become a comprehensive celebration that influences the culture of Tibet. It has also become a market time, and a time for competitions, performances and entertainment. Attending the festival gives visitors a special feel for Tibet and its culture.
Editor:Liu Yan |Source: CNTV