Eyee Hsu, host of "UpClose"
Eyee is one of the longest-standing on-air personalities at CCTV-NEWS. For nearly a decade, she has brought a greater understanding of both Chinese and Western cultures to CCTV NEWS subscribers around the globe as the host of "Up Close" and "Crossover".
Eyee is currently the host of the newly re-launched "Up Close" – an intimate one-on-one interview program with notable individuals who are making an impact on China and the world. From 2010-2011, this show was known as the weekend edition of "Crossover".
From 2004 to 2010, Eyee was the host of the original "Up Close", the channel's first and only interview program with a live studio audience, hosting over 200 distinguished guests from China and abroad.
Eyee was also a reporter for the American network NBC during the Beijing 2008 Olympics, bringing insight on Chinese culture to the American audience. Her pieces were broadcast at prime time on NBC affiliate stations, and she is proud to be part of a team that made the Beijing Olympics the most watched sporting event in US television history.
In addition to her media experience, Eyee also has deep experience in a variety of healthcare-related fields. As a healthcare management consultant for five years, Eyee brought significant impact to her clients in the US, Canada, Japan and China and was one of the fastest rising consultants in her firm. She also led her own research on infectious disease with Taiwan's Center for Disease Control (CDC). Eyee is a graduate of the University of California, Berkeley.
Eyee resides in Beijing with her husband and two young children. Her children are a constant reminder of the innate goodness in each living being, and being a mother is the most humbling and rewarding role she has ever taken on.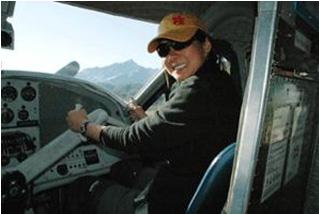 Eyee Hsu
Eyee Hsu, host of UpClose
Where did your name come from?
My name in Chinese is 徐亦怡。 In English, my first name is Eyee, pronounced like two "e"s. My last name is Hsu, pronounced like "Xu". It was not easy growing up in the United States with a name like this, but now I am grateful for having such an unusual name.

To you, what is the most important thing in a person?
I believe that being a good listener is one of the most important characteristics in a person. Only by listening to others can you gain a richer perspective and really begin to learn about how to be a global citizen. You can learn something from everyone.
What do you dislike most in a person?
Arrogance. I believe that arrogance breeds ignorance.
Which programs have been your favorites?
Tough question.Since 2004, we've interviewed hundreds of incredible people!
I will never forget my interview with Dr. Jane Goodall. She is a childhood hero of mine and I first learned about her when I was six years old. But even after all these years admiring her, when I finally met her; she surpassed all of my expectations. Sitting next to her in the studio is a life experience I will treasure. I feel so lucky to have had the opportunity to meet and interview her.
One of the most exciting interviews to tape was with Shaun White, king of snowboarding and skateboarding. For such an accomplished athlete, Shaun is one of the most humble guys I have ever met. He is from my hometown in California, so I felt like I was talking with an old friend. But best of all, we were taping in the Bird's Nest, and snow was falling that day! It all was edited out later, but it was so cold, my eyes kept tearing, and I had to stop the interview several times to wipe the tears away. Shaun was a complete gentleman and tried to make me feel better by saying he was cold too. That gave me a good laugh!
Who would you want to interview most?
The list is endless. But if I had to choose someone in China, I would have to say Vice Premier Wu Yi. Here is a woman of incredible intelligence, integrity, ambition and elegance. She is the most powerful woman in China today and a very important role model for the women of the world.
What is your philosophy on life?
Stay positive and aim to be happy. Life will continue to throw challenges at you no matter how much you plan. These are tests of individual character and it will be up to you to assert yourself and turn an impossible situation into a positive opportunity.

What is your advice to everyone out there?
Remember there is only one person in the world like you - yourself. That makes you absolutely unique and special.

What do you do in your spare time?
These days, you will find me with my kids. My daughter was born in 2007 and my son was born in 2009. Having them has changed my life completely. The awesome responsibility to nurture and educate another human being can be overwhelming, but it is the best job I have ever had! Now I understand what people mean when they say that.
I see the world differently now. I try to see it from their eyes, and I marvel in new experiences with them. It's wonderful to watch them see fireworks during Spring Festival for the first time, open presents on Christmas morning, and try new foods – there is so much innocence and beauty in everything they do. Yes, I'm the proudest mother there is!
But aside from the kids, I still have my own hobbies. I am still doing lots of pilates, snowboarding/skiing in the winter. I need to stay active!
Editor:Zhang Hao |Source: CNTV.CN