It is the epitome of a city, boasting the creation of a "harbor image" and a "dynamic tunnel" with urban scenes from Germany. This is the "Balancity," a magnificent crystallization of Germanic originality and technology. The structure is wrapped in silver membrane. A terraced landscape stretches from the ground level up to the third floor of the pavilion. Four exhibition structures appear to hover, creating a perfect roof for visitors.
The theme of the pavilion is "Balancity." It demonstrates the importance of balance between modernization and preservation, innovation and tradition, community and the individual, work and leisure, and between globalization and national identity. Visitors will gradually explore various places typical of a city -- a harbor, a factory, a garden, a park and a depot where exhibits and urban projects from Germany will be on show.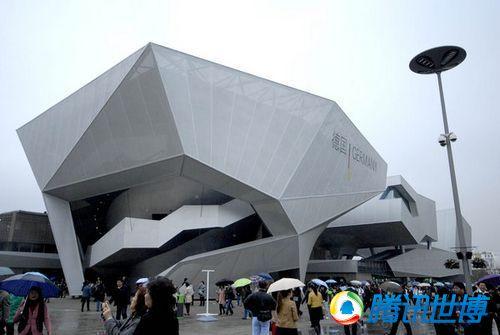 May 19th is the Germany Pavilion Day at the Shanghai World Expo.