The Austria Pavilion showcases itself by means of dynamic-abstract architecture with a porcelain outer skin in red and white colors. Porcelain is also found in the pavilion's interior design. The porcelain surface elegantly alludes to the century-long tradition of "Chinaware" once exported from China to Europe. In a symbolic way, Austria transports this architectural object back to China with its pavilion, giving expression to the friendship between Austria and China. The color combination of red and white not only displays the colors of the Austrian flag, but also integrates the traditional Chinese color "red" for luck and happiness.
Composed of five exhibition zones, the Austria Pavilion will take visitors on a pleasant journey through spectacular snow-capped mountains, fragrant forests, green grassland, flowing rivers and urban landscapes. Alongside the entire path leading from the mountain to the city, visitors will come into contact with Austrian culture and economy through animated installations. The pavilion promises an extraordinary "Tour of Austria" for visitors, with its sensory-coupled video and audio presentations.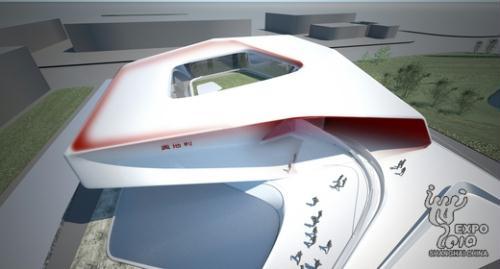 Austria celebrates its national pavilion day, May 21, 2010.