Watch Video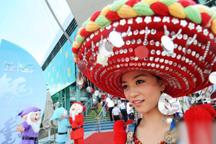 Play Video
Over the next half hour, we'll bring you the spectacular events and the highlights of the Pavilion Days of a host of countries in the past week.
Related stories
Bangladesh promotes natural wonder
When talking about Bangladesh, the Bengal Tiger is for many people one of the first things that comes to mind. Another is one of the world's natural wonders the famous Sundarbans Mangroves, the largest mangrove forest in the world, and home to the Bengal tiger.
Full Story>>
Spain brings colorful multimedia show to Expo
At the 2010 Shanghai World Expo, the Spain Pavilion enthralls spectators with a unique multimedia display that captures the best of Spanish culture through the language of montage.
Full Story>>
Shanghai celebrates Mauritania Pavilion Day
Monday marks the pavilion day of the Islamic Republic of Mauritania. The northwestern African country covers an area of over a million square kilometers, but more than 80 percent of that is devoured by the Sahara desert. Full Story>>
"Country of Volcanoes" erupts in Shanghai
The Republic of El Salvador celebrates its national pavilion day at the World Expo in Shanghai on Tuesday. With a theme of "Country of Volcanoes", the central American country marked the day with an eruption of color, music and dance. Full Story>>
Wednesday marks the National Pavilion Day of the Republic of Botswana at the Shanghai World Expo. This landlocked country in southern Africa is famous for its wildlife and diamonds. Full Story>>
Oman Pavilion Day celebrated at Expo
Oman is one of the richest countries per capita in the world. But behind its abundant wealth, Oman also boasts an ancient heritage of culture and arts, and remarkable geographical diversity. Full Story>>
Egypt Pavilion Day at the Shanghai World Expo
As a transcontinental country with over 7,000 years of history, Egypt is famous for its ancient civilization and some of the world's most famous monuments. Full Story>>
Cuba celebrates National Pavilion Day
As the largest island country in the west Indian archipelago, Cuba is located to the northwest of the Caribbean Sea. On Monday morning, Cuba celebrated its National Pavilion Day inside World Expo park. Full Story>>
Senegal welcomes its Pavilion Day
Senegal Pavilion celebrated its National Pavilion Day at the Expo Centre today with African-style dancing performances. Full Story>>
Editor:Zhang Jingya |Source: CNTV.cn