Watch Video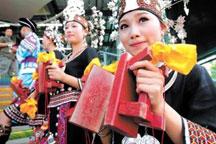 Play Video
Over the next half hour, we'll bring you the spectacular events from the past week.
Liberia marks National Pavilion Day at Expo
The country of Liberia is celebrating national pavilion day on Monday in Shanghai.
Liberia is known for its large amount of rainfall. So naturally, Liberia Pavilion is using water as the key element to present a nation with a favorable geographical location, and beautiful natural environment and ingenious people. Full Story>>
Ukraine celebrates National Pavilion Day at Expo
Ukraine, the second largest country in Europe after Russia, is celebrating its National Pavilion Day at the Shanghai World Expo. Folk artists from Ukraine presented their home country's folk songs and age old musical instruments to ignite the celebration.
Full Story>>
Uraguay: Where the painted birds live
The Oriental Republic of Uruguay is named after its geographic location to the east of the Uruguay River.
The word Uruguay, which comes from the Guarani language, means "river where the painted birds live." Full Story>>
Namibia celebrates National Pavilion Day
The African country of Namibia is celebrating its National Pavilion day on Thursday in World Expo park. The pavilion, which sets its theme as "Experiencing Living Diversity", is presenting a colorful and culturally diverse Namibia. Full Story>>
Guizhou culture on show at Expo
As one of China's most ethnically diverse regions, Guizhou Province in the southwest of the country put on a grand display of its arts and culture on Sunday in Shanghai. The event helped raise the curtain of Guizhou Week at the ongoing World Expo. Full Story>>
Root carving in Henan pavilion
Let's continue our exploration at the World Expo Beneath the Henan Pavilion is a high-security area packed with priceless works of art. Full Story>>
Little Mermaid celebrates 97th birthday
The famous national emblem of Denmark, the Little Mermaid, is celebrating her 97th birthday. And the first birthday she has ever enjoyed overseas is at the Shanghai World Expo. Full Story>>
Winter Palace treasures on display in Shanghai
In Shanghai, visitors to the Shanghai Museum can see treasures transported from The Winter Palace, residence of Russian Tsars from the 18th to the beginning of 20th century. These wonderful pieces tell stories from the golden age of the Russian Empire. Full Story>>
Pavilion of public participation
Apart from the various pavilions representing different nations and regions at the 2010 Shanghai World Expo, the big event also features a distinguished pavilion proclaiming the power of the people. It's the Pavilion of Public Participation, located in Zone B of Expo Park. Full Story>>
Editor:Zhang Jingya |Source: CNTV