Watch Video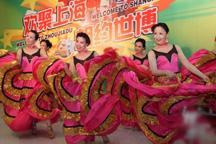 Play Video
Over the next half hour, we'll bring you the spectacular events from the past week.
Related stories
Seed Cathedral celebrates UK National Pavilion Day at Expo
United Kingdom, home to the first ever World Expo in 1851, is presenting to the world another dazzling structure in Shanghai World Expo this year. One of the most eye-catching buildings on the expo grounds, the Seed Cathedral is celebrating the UK national pavilion day on Wednesday.
Full Story>>
National Pavilion Day for DPRK celebrated at Shanghai World Expo
The Democratic People's Republic of Korea, which is participating in the World Expo for the first time, celebrates its National Pavilion day on Monday in Shanghai. The pavilion merges national characteristics of the DPRK together with its modern beauty.
Full Story>>
Macedonia celebrates National Pavilion Day at Shanghai World Expo
The Republic of Macedonia celebrates its national pavilion day at the Shanghai World Expo on Tuesday. Presentations at the Macedonia Pavilion focus on its traditional food and crafts, rural development and modern economy, as well as its natural resources and cultural diversity.
Full Story>>
Discover incomparable Kenya on its National Pavilion Day at Expo Park
It's Kenya's turn on Thursday to host National Pavilion Day at the Shanghai World Expo. So, let's take a closer look at how the East African country interprets its theme "Cities of Discoveries and Harmony." Full Story>>
Ethiopia celebrates its national pavilion day
Ethiopia is celebrating its national pavilion day at the World Expo in Shanghai on Friday. Located in the Horn of Africa, Ethiopia is a landlocked country dating back more than three thousand years. The country's rich historical legacy is displayed at the Ethiopia Pavilion, a cone-shaped structure inside the Africa Joint Pavilion. Full Story>>
Thailand celebrates National Pavilion Day at Expo
The Thailand pavilion features elegant design motifs that are distinctively Thai. The first exhibition hall introduces visitors to the Thai way of life. Watching the big screen, visitors not only experience the modern and sustainable life of Thais, but also the traditional life style of Thailand. The exhibition also tells the story of Thai's affinity with rivers and canals that provide nourishment and means of transport. Full Story>>
Tibetan heritage highlights at Shanghai World Expo
Tibetan culture and art is being showcased at the Shanghai World Expo, with the beginning of "Tibet Week". Under the theme of "Heaven in Tibet," the festival includes performances of traditional songs and dances, some of which are recognized as Tibetan intangible heritage. Full Story>>
Turning trash into treasure at the Montreal Pavilion
At the Montreal Pavilion at the Expo, artworks made from trash were crowned as winners of an environmental awareness campaign. The initiative, Eco-Art China, motivates the public to transform trash into treasure. Full Story>>
Editor:Zhang Jingya |Source: CNTV