Watch Video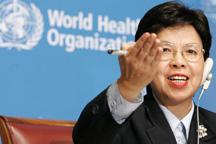 Play Video
Margaret Chan, Director General of the World Health Organization.
The first Chinese to head a UN agency.
But she never intended to be a doctor.
Margaret Chan was born in 1947 in Hong Kong.
Her first career was as a teacher, but she switched to medicine to accompany her husband abroad.
After graduation, Dr. Chan joined Hong Kong's health department. She rose rapidly to become director.
Her reputation grew in her handling of global health emergencies.
In 1997, she boldly ordered a cull of 1-and-a-half million chickens after a strain of avian flu killed six people. The quick response is widely credited with preventing the spread of the deadly virus.
Six years later, Hong Kong faced another pandemic threat: Severe Acute Respiratory Syndrome, or SARS.
Dr. Chan became a public hero through her regular, reassuring appearances on television. She presided over 61 daily emergency press conferences.
In 2006, Margaret Chan was elected Director-General of the WHO in 2006.
Editor:Zhang Jingya |Source: CNTV.cn