LONDON, July 27 (Xinhua) -- Basketball star Yi Jianlian led Chinese delegation into the Olympic Stadium Friday night at the opening ceremony of the 30th Olympic Games.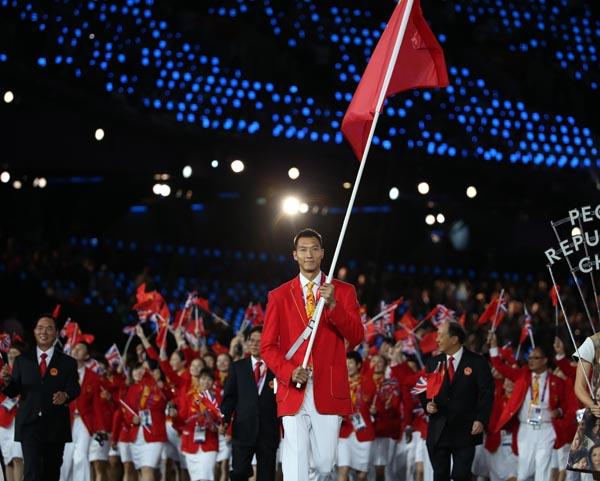 Members of the Olympic Delegation of China walk into the Olympic Stadium during the opening ceremony of the London 2012 Olympic Games in London, Britain, on July 27, 2012.
The 396-athlete Chinese delegation, down from 639 in Beijing, will take part in 23 out of 26 sports at the games.
Four years ago, China topped the gold medal table for the first time in history with 51 golds, dethroning long-time powerhouse the United States who claimed 36 golds. This time around, however, the Chinese set a low-key target of a top-three finish on the medals count.
Athens 110m hurdles winner Liu Xiang is seeking a redemption after he was forced out of his heat in 2008 by a tendon injury.
In the pool, Sun Yang is expected to win gold in the 1,500m freestyle and to become the country's first male Olympic swimming champion.
The 20-year-old Sun rose to stardom in last year's world championships in Shanghai, breaking Australian Grant Hackett's 1,500m freestyle world record.
Members of the Olympic Delegation of China walk into the Olympic Stadium during the opening ceremony of the London 2012 Olympic Games in London, Britain, on July 27, 2012. (Xinhua/Li Ga)
Members of the Olympic Delegation of China walk into the Olympic Stadium during the
opening ceremony of the London 2012 Olympic Games in London, Britain, on July 27, 2012.
(Xinhua/Chen Jianli)