Hu Chong, Li Shizhou
  In recent two years, with glorious development of auto market and further upgrading of consumption structure, China's luxury car market also come into an explosive period, an important period for mass communication. With rapid expansion to tier-2 and tier-3 markets and collective declining of channel construction, TV has become the main battle field for propagandizing luxury car brands.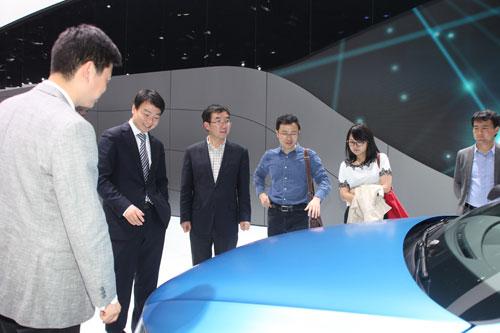 He Haiming, deputy director of CCTV Advertising Center visited the booth of Audi in the exhibition
  According to the sales structure for the whole year of 2011 and the first quarter of 2012, Audi, Benz and BMW are among the best around the world in terms of sales in China. It's undoubtedly that China has already become the world's largest market of various international luxury car brands.
  Taking the three German luxury car brands, Audi, Benz and BMW as an example, in 2011, Audi, BMW and Benz enjoyed sales of 310,000 units, 230,000 units and 190,000 units respectively, making great achievements. Audi maintained its first place in sales in China's luxury car market while BMW enjoyed a steady rise in sales, with its market share increasing to 25 percent, further shortening the gap with Audi. Benz completed channel integration in 2011 and its aggressiveness and pioneering spirit should not be underestimated.
  Channel Sinking, Starting Strategic Layout of Fighting for Tier-2 and Tier-3 Cities
  According to statistics of State Information Center, currently, auto sales in tier-1 cities see an increase of 8.1 percent, while that of tier-2 and tier-3 cities enjoy 27.6 percent and 33.7 percent respectively, much higher than tier-1 cities.
  The three brands Audi, BMW and Benz, after having completed their perfect layout in tier-1 cities, will comprehensively launch the movement of fighting for markets in tier-2 and tier-3 cities.
  Audi is the representative of luxury car brands firstly conducting marketing in tier-2 and tier-3 cities. In 2010, Audi's two largest urban exhibition halls around the world was set up in Shaoxing, Zhejiang and Bin'ao, Bingjiang. Currently, Audi has a total of 162 4S stores in Chinese market and will newly set up 89 in 2012. Among the stores to be newly established, 70 percent will be established in tier-2 and tier-3 markets and 17 will even be set up in tier-4 markets for striving for making great achievements in the future.
  BMW, however, by the end of 2011, had had 252 4s stores in China. It has been making efforts to striving for shares in tier-2 and tier-3 markets. It especially boasts obvious channel advantages in tier-3 and tier-4 cities, such as Yulin, Shaanxi, Yiwu, Zhejiang, and it even expands its businesses in some developed counties.
  Among the three German auto brands, Benz although is the last one entering Chinese market, it takes initiative to develop channel network layout so as to make progress steadily.
  Domestic and Exported Luxury Autos both Striving Forward for Comprehensively Permeating Various Consumer Levels of Chinese Market
  By echoing channel sinking, localization of various luxury car brands speeds up.
  Audi takes the pioneering position of localizing luxury cars and resets the entry price levels and threshold of consumption orientation for luxury car brands. Among the proud sales of Audi, sales of domestic models account for 86%. Audi Q3, making its debut at Beijing's Auto Show this year, will further speed up localization for meeting the competitive threat of domestic model of BMW X1.
  Sales of domestic BMW models account for 50 percent. After successfully realizing localization of Series 3 and Series 5, localized Brilliance BMW BMWX1 officially came to the market in March this year. Currently, the second plant for manufacturing Brilliance BMW in Shenyang has already been put into operation to make all efforts to increase percentage of localization for striving for realizing an output of 200,000 units in China this year.
  Sales of domestic Benz cars also enjoy gradual increase. After localization of C-level and E-level cars, and localization of GLK last year, it takes domestic Audi Q5 as its rival.
  Gathering at CCTV for Pursuing Discourse Power of Industry Leader
  Echoing a series of popularization activities such as "airborne landing" and "common touch" of luxury brands, transformation and breakthrough occur in median propaganda.
  From January 1 this year, series of auto models such as Benz S-Class, M-Class, AMG, SLK will be advertised in the two brand news columns Morning News and Evening News of CCTV 1, through the whole year. Just as expected by Ms Mao Jingbo, vice president of Benz Marketing Department in China "hearing the sound of Benz on CCTV every day". Today, CCTV has officially become the core display platform of complete series of Benz.
  On April 1, with a 30-second advertisement, Audi fired an important shot for getting golden resources of CCTV 1. By taking bidding slot as the main body, and supplemented by Economic News and Evening News, it forms a vertical layout of propaganda in CCTV to shockingly launch its A6L series.
  On April 1, by means of the advertisement "All for joy" newly endorsed by Liu Xiang, BMW made its world debut through CCTV Economic News and First Time. For giving full play to the "endorsement effect" of Olympic charisma, BMW has conducted a series of innovative cooperation with CCTV which boasts exclusive broadcasting rights to Olympic Games in Mainland China. Taking CCTV as the main battle field of media propaganda for the first time, it conducts in-depth cooperation of continuous propaganda and multi-level coverage.
  For German luxury car camp represented by Audi, Benz and BMW, their accelerated process of localization and increasing popularization propaganda successfully represent soft landing of international high-end brands in China. Chinese market features unpredictable changes, no eternal overlord or changeless pattern. The one who is sensitive enough to discern the market, has the ability to grasp the market pulse and the courage to break away from stereotypes will become the next winner.
Editor:肖斐 |Source: CNTV