Shiquanhe town: shining pearl on 'Roof of world'
Shiquanhe Town is the political, economic, cultural and communication center of Ngari. It was named after the Shiquanhe River, which runs through it. Originating at the northeastern foot of the Kangdese (in the Sendo Township of the Ge'gyai County), the terrain of the river head looks like the mouth of a lion, from whose mouth flows a hot spring, hence the name of the river.
With over ten year's construction, the town has been built up as the "Jiang Nan of Ngari" instead of wild gobi desert in the past. The road accesses from Shiquanhe town to Lhasa, Xinjiang province and Ngari Gunsa Airport will boost the economy of this "isolated island".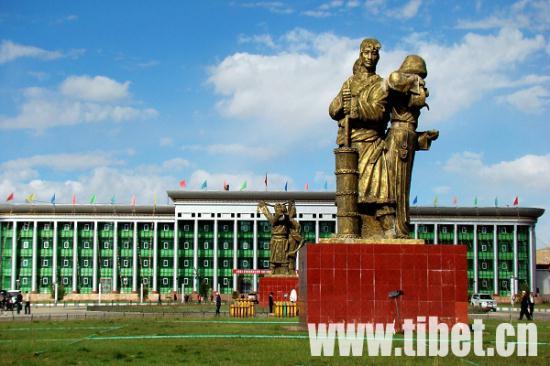 Shiquanhe town: shining pearl on 'Roof of world'
Zhada County
Sandwiched between the Gangdisê and Himalayan mountain ranges, Zhada is a small county in southwest China's Tibet autonomous region with only 10,000 residents. But it stands as the birthplace of the once prosperous and powerful Guge Kingdom. Today, traces of the ancient civilization can still be found in the ruins of the palaces which date back 1,000 years. However, apart from its historical appeal, Zhada County also boasts a unique landscape formed by constant erosions caused by rainstorms and the Xiangquan River as shown in this latest photo dispatch filed by CRI reporters traveling in Tibet.
Zhada County
Burang
Burang, the border town with Nepal and India in Nagri Prefecture, southwest Tibet has the most unique and exquisite "Burang costume" with a history of 1000 years.
Not far from the Burang town,7 households in Kegya County by the Peacock river have preserved 7 suits of Burang costumes handed down by ancestors.
Burang costumes
There is a legend about how Burang costume was named after peacock. Thousands years ago, the town lived a kind-hearted beautiful princess who was always bullied by other wives of her husband. At last the girl escaped by turning into a peacock and disappeared. In memory of the princess, residents made clothes modeling the shape of peacock, which was called "peacock" or "flying into sky" costumes.
The Burang costume is famous for its luxurious accessories. Hundreds pieces of beeswax, numerous pearls and kallaites, bunchy red corals, and delicate silver and gold decorations compose of a priceless suit with 25 kilos. These clothes therefore are well protected and became an indispensable part of local ceremonies.
Editor:Zheng Limin |Source: CCTV.com