Now in Tibetan Buddhism, the Sakya is one of the most important sects, being the first to establish itself in central China. Built more than a thousand years ago, the Sakya monastery in Shigatse is known for its rich reserve of historical relics. In the final part of our special series on Tibetan Monasteries, let's take a look at this historical building.
There is a saying that you can never really understand Tibetan history until you have visited the Sakya Monastery.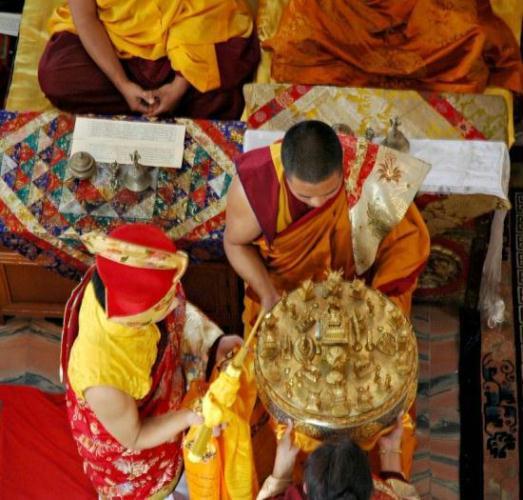 Monks in Sakya Monastery
That's because the monastery is not simply a religious site, but historically it was also the place where Buddhism affairs were managed nationally and acted as the administrative center of Tibet during the Yuan Dynasty.
Indeed the fifth abbot of the monastery taught the Dynasty's founding emperor, Kublai and even assisted him in moulding many of the first characteristics of Mongolia.
This unique history can still be witnessed through numerous precious relics that remain in the building, including this conch, which was awarded by Kublai himself. To this day lamas in the monastery will play the instrument, praying for happiness and safety.
The monastery walls are thick, strong and painted in a special color created by mixing red, white and dark blue, each color having a religious significance.
One wall is dedicated specifically to scripture, at 10 meters high, and 80 meters wide, it is made up of more than 40 thousand sutra books.
Sakya Monastery monk said, "My teacher told me that this wall was formed during the Yuan Dynasty. It is the monastery's heirloom. Even if other walls fell, the scripture wall can still hold up the monastery."
The wall was completed at the time the monastery was first built. Calligraphers from the whole of Tibet were called to join in the writing. Every scripture is written in powdered gold, silver and several other precious metals.
Between 2002 and 2008, large maintenance funds were allocated to the monastery by the central government.
Head of Maintenance Project said, "In order to keep things as they were, we photographed the scene and numbered all the antiques, then we restore everything accordingly. In this way we can put all things back exactly where they were."
More than a thousand years on from its construction, the scripture wall, the wall of paintings, the antiques and the ever present sutra-chanting sound all ensure the monastery's historical glory is set to last.
Editor:Zheng Limin |Source: eng.tibet.cn