(Ecns.cn)--Liu Jiayi, a junior majoring in applied mathematics at Central South University (CSU) in Hunan Province, captured worldwide attention last year by successfully cracking the Seetapun Enigma, a notoriously difficult mathematical problem that has puzzled the math community for over two decades.
The 22-year-old has now been recommended to skip to graduate school by three academicians at the Chinese Academy of Sciences (CAS), who all agreed in a letter of recommendation to the Ministry of Education that Liu is an "outstanding talent in math."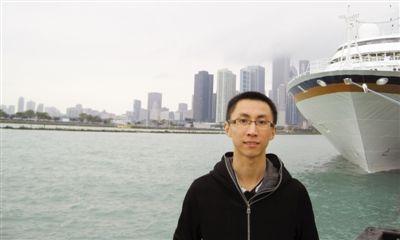 Liu captured worldwide attention last year by successfully
cracking the Seetapun Enigma, a notoriously difficult
mathematical problem that has puzzled the math community
for over two decades.
"Marvelous findings"
The Seetapun Enigma, a conjecture put forward by English mathematical logician David Seetapun in the 1990s, is a problem of reverse mathematics related to Ramsey's Theorem.
Liu suddenly found a way to solve the long unresolved question in October 2010, when he successfully gave a negative answer to the conjecture.
He submitted his findings to the Journal of Symbolic Logic, an internationally authoritative academic journal, and won lavish praise from its editor-in-chief, Denis Hirschfeldt, an expert in mathematical logic and a professor at the University of Chicago.
"As someone whose research into this problem finally came to nothing, I am very delighted to see its final solution, especially with such a wonderful demonstration. Please accept my congratulations on your marvelous findings," Hirschfeldt wrote to Liu.
On September 16 this year, Liu was invited to the Academic Conference on Mathematical Logic at the University of Chicago and delivered a 40-minute report on his research. He was the sole representative of Asian universities.
Be prepared
Wearing a pair of glasses and looking rather haggard and pale, Liu usually creates an impression of quiet coldness.
The young man from Dalian, Liaoning Province, told Xinhua News Agency that he was not born a math talent and neither of his parents were involved in mathematics.
"I may have been a little bit lucky when I cracked the problem," said Liu, who is modest about his achievement. "If there is anything special about me, it would be my love of math. I started teaching myself the philosophy of mathematics in junior high, when my classmates were struggling to answers questions in the textbook."
"Liu is a normal student at class, but he spends most of his spare time in the library, and always brings back various English books on mathematics," commented Gao Tao, one of Liu's classmates. "He usually studies till very late at night. When helping us solve mathematical problems, he tends to use creative and simple ways. We all consider him an expert."
Liu started studying mathematical logic when he was a sophomore and was firmly supported by his teacher, who spotted his talent early on.
Speaking of his efforts to crack the Seetapun Enigma, Liu recalled, "It was more like a flash of inspiration when I was pondering the problem. In fact, it did not take me much time to demonstrate it."
"Maybe it is the accumulation of knowledge from daily studies that prepared me for the solution," he added.
Liu told reporters that he also likes physics and psychology, but will concentrate on math until he is 40 years old.
An illuminating achievement
Liu's success has inspired the teachers and students at CSU. It is reported that the school will approve Liu for successive postgraduate and doctoral programs under the guidance of Professor Hou Zhenting, a famous mathematician in China and a doctoral supervisor at CSU.
The academicians at CAS who recommended Liu think of him as a good example for the reconsideration of China's test-oriented education, which they think should focus more on encouraging students to raise questions.
"Students usually don't question what they are taught," said Li Banghe, an academician, adding that many students in China are not able to conduct independent research without their supervisors.
"Cracking the conjecture, which is different from answering questions in the International Olympic Maths Competition, leads to new mathematical findings," stressed Lin Qun, also an academician.
Editor:Wang Lingfei |Source: Ecns.cn