The announcement by Changsha-based Central South University (CSU) that Liu Lu, a 22-year-old mathematics undergraduate student from the class of 2008 at CSU, had been appointed professor at the university has been met with doubt and criticism, cnr.cn reports.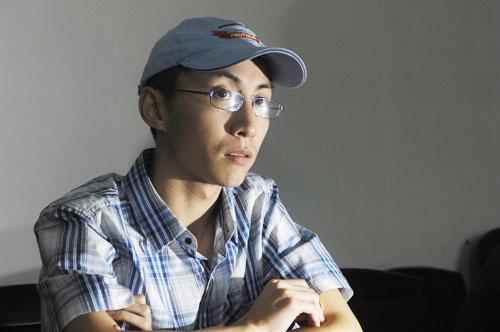 Liu Lu, a junior who solved the two-decade-old Seetapun Enigma. "I'm not a born
genius...It is the accumulation of knowledge from my daily studies that prepared
me for the solution," Liu said [Photo: CFP]
CSU announced at a press conference on Tuesday afternoon that Liu Lu had been appointed professor at the university, making him the youngest professor in China. Zhang Yaoxue, the head of CSU, said that the university would be a great stage for Liu Lu to develop his skills and improve himself in the academic field.
"We would like him to absorb knowledge from both China and abroad, take advantage of the great opportunities that CSU provides and dedicate himself to scientific research. We made such a decision because we want to provide excellent young people with the best facilities in order for them to realize their dreams."
Following his appointment, Liu Lu will receive 1 million yuan in rewards, half of which is intended to go towards carrying out scientific research and the other half is for improving his living conditions. CSU will also recommend Liu as a candidate for the National Youth Scheme, which has a restricted quota of 1,000 members.
However, after hearing about the press conference, a respected mathematician who wants to remain anonymous stated that the decision was ridiculous.
Tang Tao, a professor of the Mathematics Department at the Hong Kong Baptist University (HKBU), also said that the media and academic fields should put Liu Lu's appointment into perspective. Some financial rewards are necessary but anything more than that, including his newfound fame, may act as a burden upon his academic career.
Previous cases similar to that of Liu Lu also managed to arouse much debate and suspicion across China, including the news of a young government employee being given the title of director-in-chief. Some netizens criticized this decision as being irresponsible and stated that it should be avoided in the future.
Liu Lu came to fame after solving the Seetapun Enigma, a notoriously difficult mathematical problem, which was first raised by British mathematician David Seetapun. Three scholars from the Chinese Academy of Sciences appealed that Liu should undertake PhD study without having to take examinations. Liu Lu is nicknamed "little Chen Jingrun", after the most famous mathematician in China.
Editor:Wang Lingfei |Source: cnr.cn