Yang became an instant star on Oct. 15, 2003, when he began his 21-hour space mission to go where no Chinese man had gone before.
He had been promoted from the rank of lieutenant colonel to therank of full colonel by the Astronaut Team of the People's Liberation Army for his outstanding performance during training before the mission.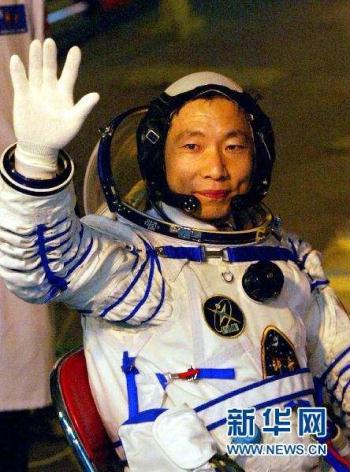 China's first astronaut Yang Liwei
However, he was notified of the promotion after his successful return from space in a bid to help him remain level-headed before the mission.
Good health, intelligence, amazing willpower and eagerness to succeed, as well as a happy family life, have made Yang Liwei China's first astronaut.
The 38-year-old, who returned safely to the Earth the day afterorbiting the planet 14 times on a 21-hour mission, was an intelligent student, air force pilot and astronaut.
Born to a family of teachers in 1965 in Suizhong County, northeast China's Liaoning Province, then the country's leading industrial center, Yang had a happy and tranquil childhood.
Unlike Soviet cosmonaut Yuri Gagarin, the first man in space, and Alan Shepard, the first American astronaut, Yang's family background was by no means humble or poor by Chinese standards. Gagarin was a carpenter's son and Shepard grew up on the family farm.
At that time, hundreds of millions of his compatriots had little education, and the number of people under the poverty line totaled 250 million by the late 1970s, mostly farmers. The profession of teaching also meant a stable income and life-long employment in China in the 1960s.
He was intelligent as a child and a good team leader of his playmates, his parents recalled.
With good scores in middle school entrance exams, Yang was selected by the best middle school in his county.
Yang won many prizes in maths competitions.
In 1983, Yang was recruited by the No. 8 Aviation College of the Air Force of the People's Liberation Army (PLA) and became a fighter pilot after graduating with a bachelor's degree. He was a straight A student in every subject during his four year training.
He became an attack aircraft pilot in the air force, and he wasrated the elite of his air force division.
Yang demonstrated his crisis management capability during a lowflying exercise in the summer of 1992 in northwest China's Xinjiang Uygyur Autonomous Region.
One of the two engines of his fighter jet suddenly stopped working following a loud noise.
With great calmness, he reported what had happened to the ground command center while operating the aircraft carefully in a bid to fly home.
His aircraft climbed to 500 meters and then 1,500 meters, and eventually over Mount Tianshan.
But the other engine also stopped working when he was close to the runway.
Without hesitation, Yang moved to put down the undercarriage, and the plane managed to land without power.
Yang was wet with sweat when he climbed out of his cockpit amidcheers from his colleagues.
The division commander greeted him with the decision to record a third-class merit for Yang.
As a fighter pilot, Yang had 1,350 hours of flight experience. He was chosen, with 13 other space cadets, from among 1,500 pilotsfor space flight training.
Editor:Zhang Jingya |Source: CNTV.CN