Tennis Court of Longgang Sports Center
Competition/Training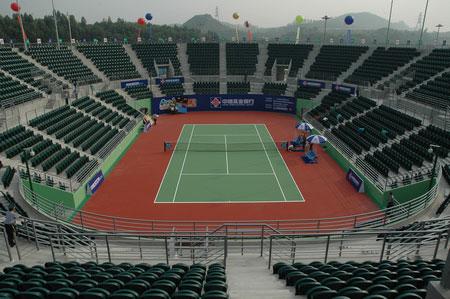 Tennis Court of Longgang Sports Center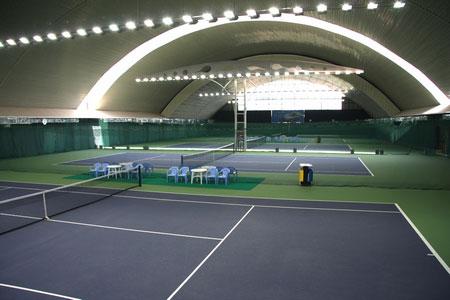 Tennis Court of Longgang Sports Center
Address: Longgang Sports Center, Shenzhen
Overall Description:
Center court (final)

Tennis Court of Longgang Sports Center
The center court covers an area of 7,519m2 and has two floors. Different entrances for athletes, officials and other working staff are on the first floor. Audiences enter the tennis court from the second floor. The court has well-equipped locker rooms and many office rooms for different purposes. Moreover, designated areas for technical officers, commentators and media people and VIP seats are distributed around the court.
Press & Mixed Zones: The Press Area is on the spectator stand. The Mixed Zone is near the gates for athletes.
Medical Service: The court has an athletes' clinic, an audience clinic and a doping control area.
11 Newly-built Tennis Courts (preliminaries and semi-finals)
Overall Description:
The 11 newly-built courts will be used for tennis preliminaries and semi-finals of the 26th Summer Universiade. Temporary spectator stands of 1,300 seats will set up around three of them. The functional rooms are in a multi-storey building nearby.
Backup Courts
Location: Sports Center of Longgang District, Shenzhen
Overall Description:
The backup court is an indoor one occupying an area of 7,200 square meters. It has four standard tennis courts. Its roof can be open or closed according to need. Air-conditioned, the building has changing rooms, toilets and some functional rooms.
Editor:Yang Jie |Source: www.sz2011.org