X. Badminton
1. Gymnasium of Shenzhen Institute of Information Technology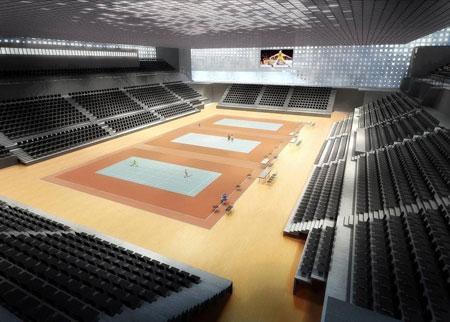 Gymnasium of Shenzhen Institute of Information Technology
Gymnasium of Shenzhen Institute of Information Technolog
Competition
Address: Central Longgang District, Shenzhen
Overall Description:
The Gymnasium of Shenzhen Institute of Information Technology covers an area of 11,586m2 and has three floors. The entrances for athletes, officials, working staff, VIP, media, and audiences are on the first floor. This floor also has well-equipped lounges, reception rooms and lots of office rooms. The spectator stands are on the second and third floor.
The gymnasium has a competition hall and a warm-up one. Well-equipped lounges are prepared for athletes, judges and referees. The press center covers an area of 100m2, the media working area is 193m2, and the media lounge is 70m2.
Press & Mixed Zones:
The Press Area is located on the first floor. The Mixed Zone is near the gates for athletes.
Medical Service:
A clinic and a doping control area are available in the gymnasium.
Information desk:
It is located near the athletes' entrance on the first floor.
2. Badminton Hall of Longgang Sports Center
Training
Address: Longgang Sports Complex, Shenzhen
Overall Description:
Occupying an area of 7,915 square meters, the court has two well-equipped changing rooms and some functional rooms.
Editor:Yang Jie |Source: www.sz2011.org