XII. Shooting
Shenzhen Shooting Range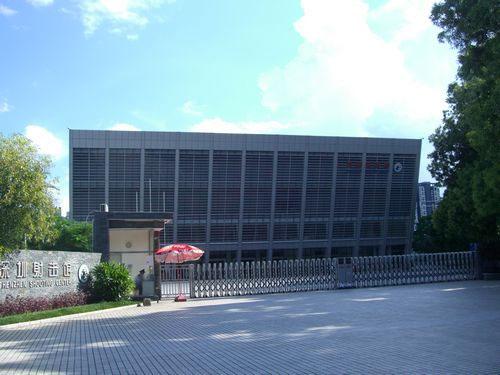 Shenzhen Shooting Range
Competition/Training
Address: West Gate of Shenzhen Sports Center, Futian District, Shenzhen
Overall Description:
Shenzhen Shooting Range has a floor area of 4,697m2 and a building area of 13,780m2. The building's height is 23.90m. It has one floor under the ground and four floors above the ground. The basement floor is a parking lot. The first floor is a court for finals. The second floor is an office area. The third floor is a 10m/25m air rifle range and the fourth floor is a 50m range. Different entrances for athletes, judges and referees, venue staff, media people, VIPs and spectators are on the first floor.
The first and second floor also has different functional rooms. Athlete lounges and lounges for other workers are on the third floor. The building also has toilets for disabled people. Two elevators go from the first floor to the fourth one.
Shenzhen Shooting Range Hall is equipped with standard venues for shooting competitions as well as necessary functional rooms. It meets the latest requirements of International Shooting Sport Federation.
Press & Mixed Zones: The range has a press area and a mixed zone.
Medical Service:A clinic is on the first floor. Doping control rooms are on the second floor.
2.Trap & Skeet Range
Competition/Training
Address: Near Universiade Park, Longgang District, Shenzhen
Overall Description:
The Universiade Trap & Skeet Range covers a total area of 170,000m2. The range itself is 24,000 m2 in size. Temporarily built shelters and sheds working as different functional rooms covers an area of about 2,000 m2. Spectators and athletes can park their vehicles in designated parking lots and enter the range from different entrances. The venue has seven sub-areas respectively for operation, spectators, competition, athletes and team officials, protocol, TV broadcast and media.
The venue has 500 seats – 200 for the public, 30 on the rostrum, 70 for VIPs, 100 for media and 100 for coaches and athletes.
Press & Mixed Zones:
The press area is beside the FOP area. The Mixed Zone is near the gates for athletes.
Medical Service:
Two clinics are respectively for spectators and athletes. A doping control area is available.
Editor:Yang Jie |Source: www.sz2011.org