Crew schedule
The time zone used on board the ISS is Coordinated Universal Time (UTC). The windows are covered at night hours to give the impression of darkness because the station experiences 16 sunrises and sunsets a day. During visiting space shuttle missions, the ISS crew will mostly follow the shuttle's Mission Elapsed Time (MET), which is a flexible time zone based on the launch time of the shuttle mission. Because the sleeping periods between the UTC time zone and the MET usually differ, the ISS crew often has to adjust its sleeping pattern before the space shuttle arrives and after it leaves to shift from one time zone to the other in a practice known as sleep shifting.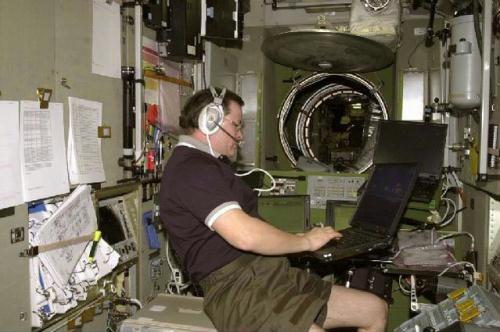 Astronant is working in ISS.
Tracy Caldwell-Dyson in the Cupola,
observing the Earth below, during
Expedition 24.
A typical day for the crew begins with a wake-up at 06:00, followed by post-sleep activities and a morning inspection of the station. The crew then eats breakfast and takes part in a daily planning conference with Mission Control before starting work at around 08:10. The first scheduled exercise of the day follows, after which the crew continues work until 13:05. Following a one-hour lunch break, the afternoon consists of more exercise and work before the crew carries out its pre-sleep activities beginning at 19:30, including dinner and a crew conference. The scheduled sleep period begins at 21:30. In general, the crew works ten hours per day on a weekday, and five hours on Saturdays, with the rest of the time their own for relaxation or work catch-up.