Watch Video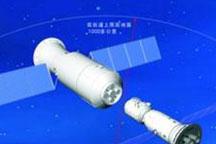 Play Video
Before the launch of the Shenzhou-8 spacecraft, Tiangong-1 will have to adjust its flight path to match that of Shenzhou-8. They must be flying at the same altitude and at nearly the same speed. During the initial phase, ground control will be in charge, but as the two crafts come closer together, an automatic pilot will take over.
Heading for the target - The rendezvous procedure begins when Shenzhou-8 and Tiangong-1 are 10-thousand kilometers apart. The first step is handled by ground control. They will make several adjustments to the orbit of the craft as it approaches Tiangong-1, the lab module.
Zhang Bonan, chief designer of China's spaceflight program, said, "According to our current plan, there will be about 4 adjustments to the spacecraft's orbit, in order to lead Shenzhou-8 to the target. When the distance between the two vehicles is less than 50 kilometers, sensors and communication equipments attached to the craft will be able to capture the target."
When Shenzhou-8 and Tiangong-1 are less than 50 kilometers from each other, an automatic procedure takes over.
Bai Mingsheng, Tiangong-1 designer, said, "Within 50 kilometers, the two vehicles will be able to recognize each other through sensors and communication equipments, and will dock to each other automatically."
From now on, Shenzhou-8 responds automatically to information provided by the sensory equipment onboard both vehicles.
This phase is the most complicated part of the procedure. Shenzhou-8 will have to decelerate 4 times before rendezvousing with Tiangong-1. This will begin at 5 kilometers from the target, 400 meters,
140 meters and 30 meters away - This should allow Shenzhou-8 to be traveling at just the right speed and at just the right angle.
By this stage, both crafts will be traveling on the same path and at a speed difference of 20 centimeters per second. When they are only 30 centimeters apart, the docking procedure then begins.
Editor:Zhang Dan |Source: CNTV.CN